Great news today with the announcement from the Minister for Health the Honourable Greg Hunt MP that Keytruda will be listed on the PBS from the 1st of May for relapsed/refractory classical Hodgkin Lymphoma. There has been great collaboration from many parties including patients and their families to make this happen!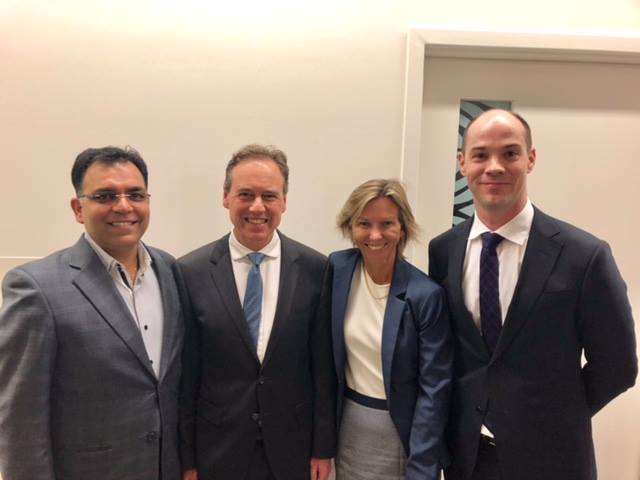 L-R: Raj Gauba- Haematology MSD; Federal Health Minister Hon Greg Hunt MP; Sharon Millman- CEO Lymphoma Australia, Dr Michael Dickinson- Peter MacCallum Cancer Centre
More than 6000 people will be able to access cheaper lifesaving drugs thanks to five new listings on the Pharmaceutical Benefits Scheme. #TenNews @anniemaykearney pic.twitter.com/k176rZGfsk

— TEN Eyewitness News (@channeltennews) April 15, 2018
Patients battling Hodgkin Lymphoma will have cheaper access from 1 May 2018 to a lifesaving cancer drug that previously cost $200,000.
While 85 per cent of Hodgkin lymphoma sufferers are cured with chemotherapy, ­patients who relapse or those who cannot undergo normal chemotherapy are prescribed the immunotherapy medicine Keytruda.
From May, patients will pay a maximum of $39.50 per script, with patients eligible for a concession paying just $6.40, after the federal government approved the drug for the Pharmaceutical Benefits Scheme subsidy.
Chief executive of Lymphoma Australia Sharon Millman said patients who didn't ­respond to chemotherapy didn't have a lot of options.
"Now patients can focus on beating cancer and not worry about how they are going to pay (for the drugs)," she said.
"This will give many ­patients the hope of recovery.
"A lot of patients are really excited."
More details: 
Link to Immunotherapy information: Click Here 
Read the Herald Sun article here:  http://www.heraldsun.com.au/news/sick-patients-offered-cheap-access-to-lifesaving-cancer-drug/news-story/68ac9c0adbcb37797ff2de57f8a7ea3d?login=1
News.com.au: http://www.news.com.au/lifestyle/health/health-problems/hodgkins-lymphoma-treatment-now-available-for-40/news-story/156c340c788016c4f1c706921a4f9bc0