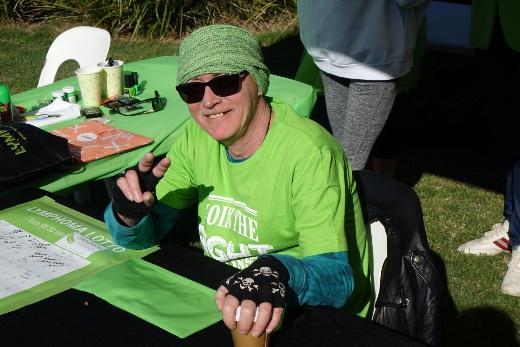 Can you help by donating your time or expertise?
Volunteers are the lifeblood of every charity organisation and here at Lymphoma Australia we welcome all the help we can get.
Throughout the year we will have many opportunities to become involved. We also welcome your input, if you have a skill you think we could use or would like to help out in someway, please get in touch.
Email our events team – fundraise@lymphoma.org.au or call 0412883842
Legs Out for Lymphoma Charity Walks are held during March and April and we have some volunteer positions available in Brisbane, Perth, Melbourne, and Sydney.
High Fivers: Be part of the action along the course, help keep our walkers on track and motivated. Strategically placed along the course you will be there to give a high five and a cheer as walkers go past. Suitable for individuals, groups and families. Approx. time commitment 2 hours.
Merchandise Stand: We need 2 – 4 helpers in each state to help on our merchandise stand. Duties will include helping to set up, sell and distribute merchandise. Suitable for individuals or pairs. You will be under the shade of our merchandise tent. We would appreciate your help for 1 hour prior to the walk and potentially around half an hour after the walk.
Lime Lane: We need fun helpers who would be happy to paint finger nails green, spray hair green, apply green make up and green face paint in simple designs like the lime awareness ribbon or lime stripes. We need about 2 – 6 helpers. You would be required for about 1.5 hours prior to the walk.
Selfie Booth: Help to keep the props in order and people flowing through the area designated for lime selfies. #legsout4lymphoma
Photographers: We would love your help to capture the event. If you or someone you know have an interest in photography or video and would be interested in capturing the day we would love to hear from you.
Set Up / Pack down: If you have some time to help us set up marquees or tables before the event or help us pack down afterwards, we are always grateful for some assistance.
Entertainment: Are you are DJ, Singer, Guitarist or kids entertainer? We are always looking to add fun to our event. If you have a skill you could share we would love to hear from you.
Warm Up Leaders: We like to have some fun before we walk and have found a short, light hearted warm gets our walkers in the mood. If you think you have what it takes to get legs pumping and lead the group in a fun warm up activity please get in touch. 1 -3 people and approx. 5 minutes of your time is all that is needed.
Photographers: If you or someone you know have an interest in photography or video and would be interested in capturing special moments for patients and our services, we would love to hear from you. We are in need of photographers throughout the year in locations across Australia for education days, filming patient interviews, or attendance at conferences. Please email us at fundraise@lymphoma.org.au if you would like to support this area.
Administration support: We are currently expanding our nurses program and service offerings. Basic admin support includes data entry, website updates, marketing support and other tasks. If you are available for 2-3 hours per week, please contact our CEO Sharon Winton – sharon.m@lymphoma.org.au
If you would like to know more or to join our team of valuable volunteers, please email us fundraise@lymphoma.org.au or phone Josie Cole on 0412883842.