Prof Con Tam, Peter MacCallum Cancer Centre
What are clinical trials?
A clinical trial is an important part of health research. A Clinical trial is a controlled way to answer important questions about a new treatment, technologies, tests or a new way of giving treatment. A clinical trial will ask questions such as;
The safety and effectiveness of new medications
The addition of new medications to standard treatments
Looking at new ways to give standard treatments
Compare a new treatment with old ones to see which produces better results with fewer side effects
The excellent treatments currently approved for use are the result of many years of laboratory and clinical research.
The most important factor when conducting a clinical trial is the safety and wellbeing of the patients who are participating. All clinical trials in Australia have been rigorously reviewed and approved by various committees to ensure the trial is scientifically and ethically sound and meets all the Australian regulatory requirements. These reviews must be completed before a clinical trial can enrol patients.
Clinical trials are governed by national ethics guidelines and codes of conduct. For further information on requirements, see the National Statement on Ethical Conduct in Human Research and the Australian Code for Responsible Conduct of Research.
Clinical trials of unapproved substances and devices must comply with the requirements of the Therapeutic Goods Administration (TGA) and with international guidelines, as adopted by the TGA. The Therapeutic Goods Administration (TGA) is an Australian Government department that regulates all medicines sold in Australia. Any experimental drug used in a clinical trial must be registered with the TGA. For more information, visit tga.gov.au.
Clinical trials are subject to review and audits by pharmaceutical companies, national and international regulatory bodies such as the TGA and FDA.
The strict way that clinical trials are approved and run ensures that the safety and rights of participants is protected and that the data collected is of a high quality.
Prof Judith Trotman, Concord Hospital
How are clinical trials designed?
Clinical trials are designed in a scientific way to be fair and safe for patients who are participating.
Testing new medicines and approaches to treatment takes a long time. Before treatments are trialled in people, scientists and doctors have spent many years conducting laboratory research. A plan is made to test the new treatment in phases. The results of each trial are analysed before it can progress through to the next phase.
There are 4 phases of clinical trials: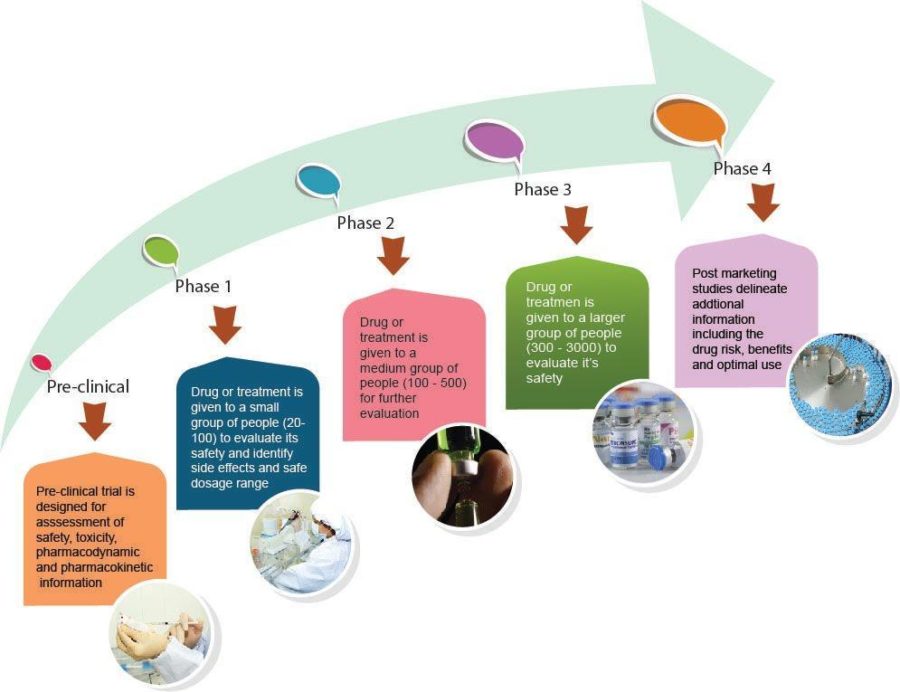 Purpose

How is it conducted

Phase I

Evaluate safety profile and side effects 

Establish a safe dose which will be examined further in later phase trials

Very small numbers of participants (20-50)

For trials of new medicines, participants are usually given a very small dose and then once this dose is seen to be safe it will be increased for the next group of participants. 

Often participants will need to have additional tests, for example, blood tests, heart tests.

Phase 2

Looking further at the safety profile 

Looking more closely at how well the dose of the medicine works against the disease

Larger numbers than a phase 1 trial

(100-500)

Phase 3

This phase compares the new medicine or treatment to a current treatment 

Large numbers of participants enrolled 

(over 300+)

Phase 4

Once the medicine is approved for use these trials are designed to monitor the effectiveness of the approved medicine in the general population

Very large numbers of participants
What does randomisation mean?
When trials compare treatments against one another they often randomised trials. This means that once you have agreed to enter a trial, a computer will randomly allocate you to one of the methods of treatment. The treatments are often referred to as "treatment arms"
Neither you nor your doctor can choose which treatment arm you are allocated. This process is used to ensure that a trial is fair and that results from each group can be compared scientifically.
Blinding refers to the act of concealing the nature of a treatment that a participant is receiving. Blinding is used in some trials so that the participants do not know which treatment is received. This is known as a blind trial. In a blinded clinical trial, participants don't know which arm of the study they are in. The aim of blinding is to reduce bias in reporting of benefits and side effects.
A placebo is an inactive or mock treatment. It is made to look, taste or feel like the treatment being tested. The difference is it does not contain any active ingredients. A placebo is used to ensure that the outcomes are because of the actual treatment. If a placebo is used, it will be in addition to standard treatment. You don't have placebo treatment on its own. For example you may receive the standard treatment and the experimental treatment. You may receive the standard treatment and a placebo.
You will always be told if the trial you are in uses placebos. You will not be told if you are receiving the experimental treatment or the placebo.
Dr Michael Dickinson, Peter MacCallum Cancer Centre
What happens on a clinical trial?
Clinical trials are conducted according to a pre set plan or protocol. The protocol sets out which patients can be enrolled onto the trial, what tests are needed, the treatment that is given and what follow up is required. You can read more about what may happen when you enrol on a clinical trial.
What does informed consent mean?
Before anyone can be enrolled on a clinical trial, they must sign a consent form. This process is very important. Participating is entirely voluntary. No person should be forced or pressured into participating in a clinical trial. The doctors and clinical trials team will explain the clinical trial to you in detail. They will ensure that you have a written information sheet. You will be given plenty of time to read the information and think about whether you would like to participate. It is important that you thoroughly understand what is involved including the benefits and risks of participating. Some clinical trials may require you to have additional appointments and tests. All of this will be explained and will be in the information sheet. You can take time to discuss this with your family, friends or even your family doctor. You do not have to participate in the clinical trial. It is entirely your decision and your doctors understand if you do not want to participate. If you decide not to participate you will receive the current treatment that is available for you.
Once you have decided to participate, you will need to sign a consent form. This is done with your doctor
What does the eligibility of a clinical trial mean?
Once you have agreed to take part and you have signed the consent form, you will begin a process to ensure that the trial is suitable for you. This is known as completing the eligibility criteria. These are requirements that must be met, to ensure that the people taking part are as similar as possible. If the trial is not suitable because you do not meet the eligibility, your doctor will discuss other options with you.
Once all the eligibility criteria are assessed and if the trial is suitable for you, you will be allocated a treatment group. During the treatment period you will visit the hospital regularly for treatment and tests. You may have to make additional visits and have extra tests. You may also need to answer questions about how you are feeling. The instructions will be explained by your doctor and nurse. The information is also in the information sheet you received before consenting to the trial. It is important that you follow all the instructions given to you and if you have any questions contact your doctor or nurse.
When you have completed your treatment, you move into a phase known as follow up. You will be seen by your doctor and nurse and may need to have additional tests performed. For example, blood tests, heart tests or questionnaires.
Withdrawing from a clinical trial
If you decide that you no longer want to be involved in the clinical trial you can come off at any time, without an explanation. You will not be penalised for this. If you do withdraw your consent, you will receive the standard treatment that is currently the best option for you.
How to find a clinical trial?
Your doctor will know about clinical trials that are suitable for you. If your doctor does not talk to you about clinical trials and you are interested in taking part, you can ask your doctor if there is anything available. You can also ask if there are any trials at other hospitals that you are willing to travel to. Your doctor will not be offended if you ask.
There are several places you may find out about clinical trials;
The first step is to speak to your doctor about what options are available to you. You need to ask if there is a clinical trial available that is suitable for you. Your doctor knows you and your medical history best. They would usually know if there is anything suitable in your hospital, area and interstate. If they don't know about what clinical trials are available, they may ask other doctors around Australia if they know of a trial.
Another option is to request a second opinion with another doctor. Many patients ask for a second opinion. Most doctors are comfortable with this too, so don't worry about offending them. Most doctors understand that your life is important and you need to feel comfortable that you have asked all of the right questions and know your options.
This is an Australian website that was designed to increase participation in clinical trials research. It is available for all patients, all trials, all doctors. The aim is to:
Strengthen research networks
Connect with referrals
Embedding trials participation as a treatment option
Making a difference in clinical research activity
There is also an app version
ClinicalTrials.gov is a database of privately and publicly funded clinical studies conducted around the world. Patients can type in their lymphoma subtype, the trial (if known) and their country and it will show what trials are currently available.
Australasian Leukaemia & Lymphoma Group (ALLG)
ALLG & clinical trials
Kate Halford, ALLG
The Australasian Leukaemia & Lymphoma Group (ALLG) is Australia and New Zealand's only not-for-profit blood cancer clinical trial research group. Driven by their purpose 'Better treatments…Better lives', the ALLG is committed to improving the treatment, lives and survival rates of patients with blood cancers through clinical trial conduct. Working collaboratively with blood cancer specialists locally and internationally, their impact is profound. The members are haematologists, and researchers from across Australia who work with colleagues around the world.
Blood Cancer Research Western Australia
A/Prof Chan Cheah, Sir Charles Gairdner Hospital, Hollywood Private Hospital & Blood Cancer WA
The Blood Cancer Research Centre of Western Australia, specialising in research of Leukaemia, Lymphoma and Myeloma. Their purpose is to give WA patients with blood cancers access to new and potentially life-saving treatments, faster.
Clinical trials are the best way to achieve this and are undertaken at three of our Perth locations, Sir Charles Gardiner Hospital, Linear Clinical Research and Hollywood Private Hospital.
This website contains and provides information that displays the latest clinical trials in cancer care, including trials that are currently recruiting new participants.
Australian New Zealand Clinical Trials Registry
The Australian New Zealand Clinical Trial Registry (ANZCTR) is an online registry of clinical trials being undertaken in Australia, New Zealand and elsewhere. Visit the website to see which trials are currently recruiting.
Lymphoma Coalition, a worldwide network of lymphoma patient groups, was formed in 2002 and incorporated as a not for profit organisation in 2010. Its express purpose is to create a level playing field of information around the world and to facilitate a community of lymphoma patient organisations to support one another's efforts in helping patients with lymphoma receive the care and support needed.
The need for a central hub of consistent as well as reliable current information was recognised as well as the need for lymphoma patient organisations to share resources, best practices, and policies and procedures. With this in mind, four lymphoma organisations started the LC. Today, there are 83 member organisations from 52 countries.
If you find a trial you're interested in joining, ask your doctor if you meet the eligibility criteria and, if so, whether they could coordinate your involvement or put you in touch with the research team.
What are the benefits of participating in a clinical trial?
The main benefit of participating in a clinical trial is that people can receive new treatments that are not yet available for clinical practice, or existing treatments that are not available for their circumstances. For example, if a person has received the standard treatment for their particular type of lymphoma and has not achieved the desired response, a clinical trial may be a good option. Investigational treatments are not available to people outside of a clinical trial. For a treatment to be given to people in Australia, it must have been rigorously studied and tested, and must be approved by the Therapeutic Goods Administration (TGA). The TGA is the government body which assesses and monitors all therapeutic goods to ensure that they are of an acceptable standard before becoming available to the Australian community.
What are the risks of participating in a clinical trial?
You should be aware of the risks before participating in a clinical trial. They include:
The treatment may be toxic such that you may experiences severe or unknown side effects
The treatment may prove less effective than standard therapies and offer little or no benefit
You may be in the control group of the clinical trial and as such may receive a standard lymphoma therapy and not the experimental treatment
Questions to ask your doctor
What is the purpose of this clinical trial?
How long will the study last?
Will I be better off being in a study?
How could the study affect my daily life?
Will there be costs for me to be on the study?
Is everyone with my disease eligible for this trial?
If I take part in a trial, I won't get the best treatment available?
Understanding clinical trials - Lymphoma Australia videos
Prof Judith Trotman, Concord Hospital
Dr Michael Dickinson, Peter MacCallum Cancer Centre
Prof Con Tam, Peter MacCallum Cancer Centre
Dr Eliza Hawkes, Austin Health & ONJ cancer research centre
Dr Eliza Hawkes, Austin Health & ONJ cancer research centre
A/Prof Chan Cheah, Sir Charles Gairdner Hospital, Hollywood Private Hospital & Blood Cancer WA
Clinical trials open for recruitment
Clinical Study: Tislelizumab for Participants with Relapsed or Refractory Classical Hodgkin Lymphoma (TIRHOL)  [as at July 2021]
The National Statement on Ethical Conduct in Human Research (2007) (National Statement (2007) consists of a series of guidelines made in accordance with the National Health and Medical Research Council Act 1992.
The Australian Code for the Responsible Conduct of Research, 2018
Can J Surg. 2010 Oct; 53(5): 345–348.
Blinding: Who, what, when, why, how?
Paul J. Karanicolas, MD, PhD,*† Forough Farrokhyar, MPhil, PhD,†‡ and Mohit Bhandari, MD, MSc