In this months newsletter we be share the following updates:
Christmas Message of Thanks
How we have supported you in 2022
Latest ATAGI Statement update
Keeping safe this Festive Season
Eating well over the Christmas Period
Christmas Closure Dates
Christmas Giving Appeal
Patient Treatment Support Kit
Stocking Fillers from the Lymphoma Australia Store
Upcoming events and support groups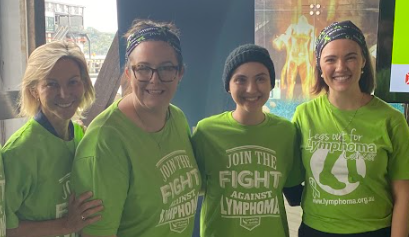 Photo: Sharon Winton (CEO Lymphoma Australia), Erica Smeaton (National Nurse Manager), Isabella Parisi, Lisa Oakman (Lymphoma Nurse)
Christmas Message
Dear Everyone,
Thank you all for your amazing support to Lymphoma Australia during 2022 as it has been a very busy year.
Lymphoma Australia will continue to support the Lymphoma community in 2023 and beyond as we will never underestimate the impact that a cancer diagnosis can have on the patient, their family, and friends. Being diagnosed and living with a cancer that has now grown to more than 80 subtypes can be challenging even for the most informed person.
Our work will always be underpinned by our dedication to take the "fear of the unknown out of the lymphoma journey", ensuring no – one is ever alone and that there is equitable access to information, support, and treatments for all Australians.
To everyone who has donated to our cause, thank you so very much as we couldn't do our work without your support as we rely on the generosity of the community and corporate world to make a difference for so many people across Australia.
Through our supports including Lymphoma Down Under, our education days, webinars, and support group meetings we continue to be inspired and so very grateful for how the lymphoma community is helping each other. You have selflessly shared your experiences, challenges and been there for each other. Your kind words and willingness to be there for people that you may have never met has helped change lives and often made the journey a little bit easier for someone who is really struggling.
Lymphoma Australia will continue to advocate for equitable and fast access for treatments for all Australians impacted by Lymphoma.
As 2022 draws to a close we take the time to be with family and friends and we remember those who have lost their lives to Lymphoma or are currently undergoing treatment. Let's take this time to reflect and embrace each other as we move towards a new year.
From all of us at Lymphoma Australia we wish you a safe and happy holiday season.
Warm regards,
Sharon Winton
CEO Lymphoma Australia