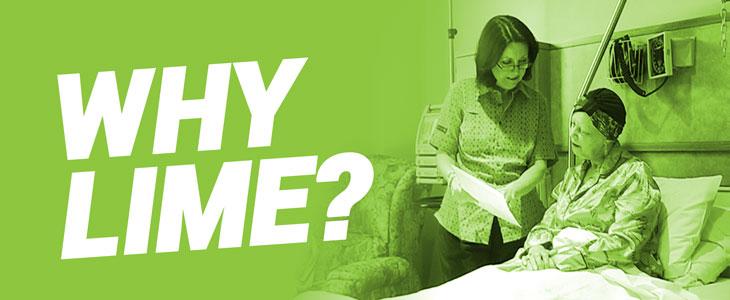 Going lime raises awareness and funds for a very special cause. Your support and participation in Lymphoma in the Limelight will allow us to fund Lymphoma Care Nurses across Australia.
Imagine the difference that these specialists will have for people newly diagnosed and needing information; for families who need support and education and to lean on throughout their journey.
Dedicated lymphoma care nurses will be there to help patients and their families to navigate the healthcare system, access the most up to date treatments and take the fear of the unknown out of the lymphoma journey.
Simply – Lymphoma Care Nurses are changing lives.
Our whole world changed in one moment
"In that instant when our GP said lymphoma, our whole world changed – our daughter has cancer, and it's one I know nothing about. My husband and I had no idea with what would come next; treatments and chemotherapy, travelling from Mildura into Melbourne, will she be able to keep going to school? Our heads and hearts were in overdrive.
It was at that point we were given the number to phone a Lymphoma Care Nurse. From the moment the Lymphoma Nurse answered our call, my fears started to disappear. We had someone on our side, who understood the medical terms and explained the diagnosis and sub-type and could answer our questions with compassion.
My daughter Vicki has access to great care and treatment for her Hodgkin's Lymphoma. With the advice, support and advocacy from our Lymphoma Nurse Donna, as a family we now know more about lymphoma, are more confident to ask questions of specialists and feel comfortable knowing there is always someone there for us; we are not alone on this cancer journey. Vicki has a long way to go yet, but we have hope."
– Melissa W.
The key roles of a Lymphoma Care Nurse includes the following:
A major role will be the provision of

support and education

to newly diagnosed lymphoma patients and their families – this includes emotional support, access to support groups and websites, helping with appointments, explaining treatment regimes including clinical trials, interaction with social work and allied health, addressing fertility issues and implementing survivorship programs.
Development of education initiatives such as simple summaries of treatment regimes, which can be provided to patients Australia wide. With over 80 different types of lymphoma, each having unique treatment, which may vary with the age of the patient, stage of the disease and whether the treatment is frontline or for a relapse, there a huge number of regimes out there.
Ensuring timely

access to clinical trials

for all lymphoma patients.
We can only make this happen together. Help us raise awareness and put Lymphoma in the Limelight