Our lymphatic system is an important network of vessels, lymph nodes and organs that all work together to keep us healthy. It's an important part of our immune system and neither our immune or lymphatic system can work without the other.
On this page we will provide an overview of what our lymphatic and immune systems are, and what they do to keep us healthy.
What makes up the lymphatic and immune systems?
Our lymphatic system is made up of:
Lymphatic vessels  
Lymphocytes (a type of white blood cell)
Organs including our:

Thymus gland 
Tonsils and adenoids
Appendix 
Spleen.
Our Immune system is made up of:
The lymphatic system
Physical barriers such as skin, mucous membranes and stomach acids.
Antibodies (which are made by B-cell lymphocytes)
All White blood cells including:

neutrophils
eosinophils
basophils
mast cells
macrophages
dendritic cells
lymphocytes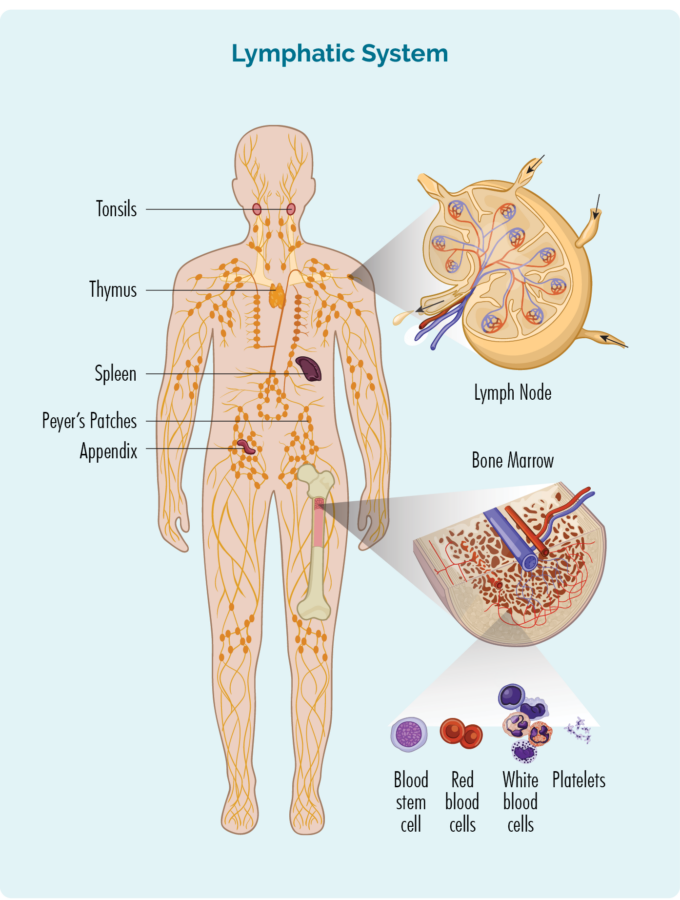 How does our lymphatic system and immune systems work together?
Our immune system is made up of all the cells and parts of our body that actively protect us against germs or damage that leads to infection and disease. Our white blood cells actively fight germs, and recognises, repairs or destroys damaged cells. Our skin, mucous membranes and the acids in our stomach work to provide a barrier that prevents germs from getting into, or spreading through our bodies.
Our lymphatic system however is the transport network (lymphatic vessels and lymph fluid) for our immune system, and helps to move all our immune cells through our body, as well as removing any waste products from immune functions. It also provides the locations in our body (lymph nodes and organs) for the immune system to do its work.
More about our immune system
Our immune system has two main functions – innate immunity and adaptive immunity. These two functions work well to give us immediate and long lasting protection from germs and damage that causes infection and disease .
Innate immunity is immunity we are born with.  It includes physical barriers as well as some of our white blood cells that immediately recognise cells that are damaged or do not belong do us (germs) and begin to fight them. 
Physical barriers
Skin – Our skin is the largest organ of our body. It protects us by making a physical barrier that prevents most germs from getting into our bodies. When we cut ourselves or have broken or lost skin, we can be at increased risk of infection due to germs being able to get into our bodies.
Mucous membranes – Sometimes we might breathe in germs. In these cases we have mucous membranes that line our nose and airways that traps germs and allows our immune cells to catch and attack them. We have similar mucous membranes that line other parts of our bodies that work in the same way.
Stomach acids – If we eat food that has germs, our stomach acids are designed to kill the germs. This helps to prevent us becoming sick or getting food poisoning.
White cells – Most of our white cells with the exception of lymphocytes are part of our innate immunity. There job is to quickly recognise any cell or organism that looks like it doesn't belong and begin an attack. They are not very specific, but they work quickly. Once they have fought the germ, they send signals to our adaptive immune cells to let them know to come and join the fight or take notes and make memory cells (see adaptive immunity) to be better prepared to fight the infection if it comes back..
The most common white cell of your innate immunity you will hear about is your neutrophils. These are the workhorse of your innate immunity, but can become low in number when you have lymphoma or CLL. Treatments for these can also decrease your number of neutrophils, making you at increased risk of infection. When your neutrophils are low, it is called neutropenia.
Adaptive (acquired) immunity
Our adaptive immunity is also called acquired immunity because we are not born with it. Instead we acquire (or develop) it as we go through life and are exposed to different type of germs. It is often called our "immunological memory" because our adaptive immunity remembers infections we've had in the past and keeps some very specialised cells called Memory B-cells or memory T-cells in our lymph nodes and lymphatic organs.
If we get the same germs again,  our memory cells spring into action with a very specific and precise attack to fight the germ before it has the chance to make us sick. But each of our memory cells only recognises one germ, which means they do not fight as often as the cells of our innate immunity, but they are much more effective at fighting the germs they remember.
The main cells of our adaptive immunity are the same cells that become cancerous when you have lymphoma or CLL – Lymphocytes.
Antibodies (Immunoglubulins)
The most mature types of B-cells are called Plasma B-cells, and they make antibodies to fight infections. Antibodies are also called immunoglobulins. Because lymphoma and CLL can affect your B-cells, some people may have lower levels of antibodies and be more prone to get sick. When this happens,  you may be given an infusion of antibodies called IntraVenous ImmunoGlubulins – IVIG, that come from a donor.
Vaccinations work by activating our adaptive immunity. By exposing us to a very small dose or inactivated part of a germ, that is not enough to make us sick, it helps our adaptive system to recognise and make memory cells to fight the infection if we get exposed to it in the future. 
Learn more about each part of your lymphatic and immune systems, by clicking on the headings below.
What else does our lymphatic system do?
Our lymphatic system has three main functions that include:
Where does lymphoma start?
Because our lymphocytes can travel anywhere in our bodies, lymphoma can also start anywhere in our bodies. It most commonly starts in lymph nodes or other parts of the lymphatic system. However, occasionally it can start in other places including skin, lungs, liver, brain or spinal cord.
Nodal Lymphoma is when the lymphoma is in your lymph nodes or other parts of your lymphatic system.
Extra-nodal lymphoma is Lymphoma outside of your lymph nodes and lymphatic system. This includes when lymphoma is found in your skin, lungs, liver, brain or spinal cord.
Our immune system and lymphatic system work together to keep us healthy.
While our immune system actively fights germs that cause infection and disease, our lymphatic system supports our immune system, transporting immune cells through our bodies, and providing immune cells a place to live.
Lymphoma is a cancer of white blood cells called lymphocytes, which are part of our adaptive immune system, and live in our lymphatic system.
Innate immunity is the immune system that we are born with.
Adaptive immunity is the immune system we develop as we are exposed to different germs throughout our life.