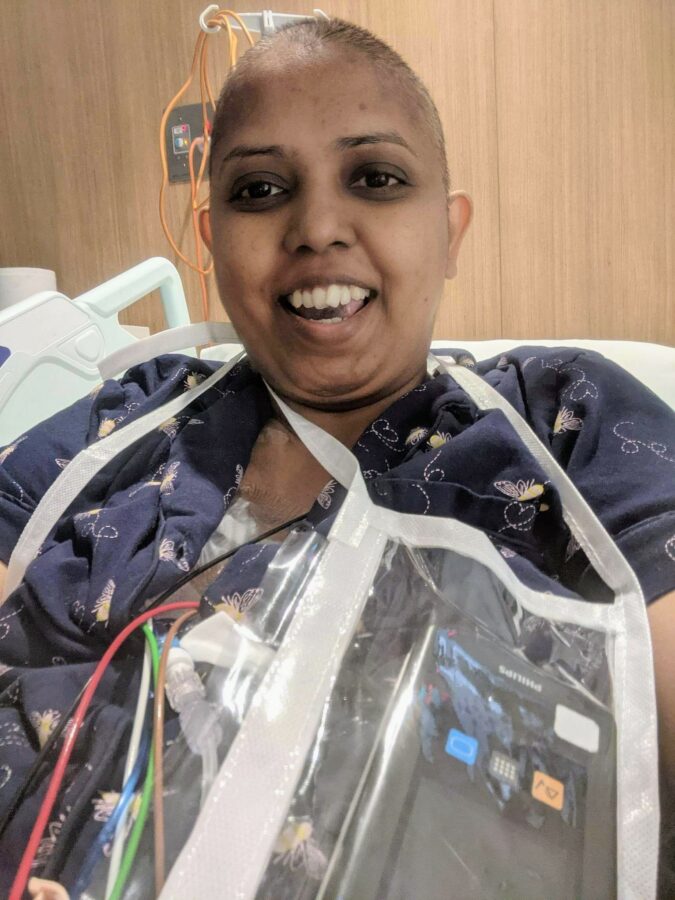 My Hodgkin Lymphoma Story
I am Venuja, I was diagnosed with Hodgkin's Lymphoma at the age of 36. I live in regional NSW. I heard about this cancer for the first time when I was diagnosed.
If I had some awareness about it before, I could have identified cancer before it reached an advanced stage. I thought of sharing my story to build up awareness.
I didn't have all the typical symptoms of lymphoma, but I had a lot of other symptoms that went away during chemotherapy and came back after a couple of weeks finishing chemo.
The long path to diagnosis…
I delivered a baby in August 2021 it was a very complicated pregnancy I had to go through an emergency c-section. It was a huge mental trauma for me because my baby was in NICU for a couple of weeks. It was a COVID lockdown. We didn't have any help. I didn't have time to pay attention to my body because my baby was in and out of the hospital for a couple of months.
Two months after my delivery I had server abdomen pain I couldn't even move, and I cried out of pain. I thought it is related to my c- section.
I normally do my regular blood check-ups. My regular GP was on holiday, so I did my blood check-ups with a different doctor. He told me I have albumin in my urine. And suspected I have kidney issues and was prescribed medicine for that. I had nausea I couldn't have breakfast it was like I never grew out of my pregnancy. I caught fevers frequently I thought that it might be COVID although I tested negative.
In May 2022, I was able to find a job in the local council in water and wastewater treatment. I loved that job and was passionate about it as I was able to get a job in the engineering field after four years since I migrated.  I put my full effort to learn and finish projects that were assigned to me. I did my work even after I came home at night even though my manager doesn't know that.  I did a full-time job on weekdays, and I still had a few students coming for tutoring at weekends. The remaining time I had I spent with my two girls and did household chores. I had extreme fatigue though I thought it is because I was pushing myself too much.
My husband told me it is not normal so go and see a doctor. Throughout this period, I did lose weight, but I thought that I was losing my pregnancy weight. I couldn't eat much. I could not bring lunch from home and eat at the office because of nausea so I ate at restaurants. I could mainly tolerate sushi. Nevertheless,  I didn't worry much about the loss of appetite because I thought it is a blessing in disguise as it would make me slim.
Around June 2022 I developed a silly loud cough. I didn't feel unwell, but I could not control my loud cough I was so ashamed of it. I went to a GP at the practice that is near my office. That doctor was in so much hurry to leave as I go there at the same time; he finishes work too. He once gave me penicillin. On my second visit to the same doctor, my collarbone was all swollen up too.  He touched all my lymph nodes in the face area and told me it is just an allergy it will go away when winter is gone. Just take some over-the-counter cough medication.
In July 2022 I had a terribly high temperature. On the same day, I gave a call to my brother who is a just passed-out intern doctor in a different country he told me to do a blood test just urine is not enough. Then I called my regular GP and she told me to go to the ED immediately. When I went to that day at night ED, they gave me saline, tested urine, they put a canular and drew blood but only tested blood sugar. Asked me to continue the medicine that the doctor gave me.
The next day,  my regular GP open her practice early in the morning just for me and she gave me pathology requests for blood tests liver profiles and kidney ultrasound with contrast. She told me to do them first in the morning and then go to ED by the time results come back. I started to vomit by then. I could not take any oral medications. Then the hospital admitted me. As my blood counts, my liver functions were bad. Although everything pointed out at my kidneys they were super good.
Doctors in the ED thought it was my gall bladder causing the problems and got me ready for surgery. I stayed fasting and by the time of surgery they cancelled it. Put me into a ward and did all sorts of blood tests, ultrasounds, MRIs and finally a fine needle biopsy from my groin. I stayed seven days in the hospital. They kept on changing the antibiotics until a very strong broad-spectrum antibiotic put down my fever. By this time my tummy was all bloated.
On August 2nd I had an appointment with a general surgeon. I was at work I ran out of all my leave, so I went for the appointment in the middle of work on the manager's approval.
The surgeon said I have lymphoma. I thought it is an illness but I never in a million years thought it is cancer. He told me not to drive back by myself call my husband. I was like why he is telling me like this? So, I asked what lymphoma is. And he said it is cancer in the lymphatic system. So, my first question was "will this be passed on to my kids?" And he said no it is not hereditary.
And he told me there are two types of lymphoma and you have the one with a good prognosis.  Then I told my doctor. "Doctor I am happy. I might be having cancer, but it doesn't go to my kids. And I got the good type." Then I drove back to my office worked the rest of the day and came home.
Starting treatment
To be frank, getting to know you have cancer out of blue was a huge shock. I know cancer is common, but I never thought I or anybody in my family would get it. It is not in my family history.
However, I was determined to face it without any complaints like why me? Because I have had good things happen to me as well. My little one got through a hard phase after just being born she went through so much pain put up a big fight and survive. I thought if my newborn could do it so can I. I will put up a fight as she did and happy days will again follow.
I decided not to tell my parents unless I had to take chemotherapy. I did a PET scan soon afterwards. It revealed that I am in an advanced stage. I had an appointment with a haematologist she told me about the only treatment for blood cancers is chemotherapy. Further, according to my haematologist, I hadn't had cancer when I was pregnant. According to my Haematologist cancer started two months after my delivery and within eight months it had reached an advanced stage.
The biggest challenge I had was telling this to my parents and my eight-year-old daughter. I spoke with the social worker in the hospital. She connected me with the Cancer Council's counselling service. That counselling helped me to break the news to my parents and eight-year-old daughter. My parents were so brave they didn't cry they didn't show any change to me. My husband was so supportive. They all took great care of me while I was having my chemotherapy.  And the Sri Lankan community in Dubbo gave me support too.
I was treated with 6 rounds of BEACOPP escalated in Western Cancer Centre Dubbo.
It was not an easy journey I passed out soon after my first chemo cycle ended. Then my doctor told me I would not be able to continue to work. I had to resign from work. That was so hard for me. That was the saddest moment in my cancer journey.
I had a fever and sepsis after my second round of chemo too. I passed out a couple of times and transferred to the cardiac care unit (CCU). There were times I thought of giving up. Then I look at the pictures of my girls on my phone and make up my mind. I told to myself living is important no matter how painful it is because I want to be with my girls.
I was admitted to the hospital until the 5th chemo cycle as after treatments I become neutropenic and developed a fever. I was given a lot of blood transfusions. I am so grateful to those who donate blood.
At the end of my 5th chemo cycle, the haematologist gave me an antibiotic and an antifungal to prevent me from getting fevers so I could skip hospital admissions.
One of the difficulties I faced during my hospital admissions was not having a cancer ward. Oncology is an outpatient unit only open on weekdays finishing at 5 pm. Although I am neutropenic, I had to wait for hours with the rest of the patients.
My last day of Chemo was the 21st of December. It was one of the happiest days of my life. I felt happier than going to a university convocation. The next day our entire family got COVID. It was so hard when the little one got sick too. But now we are all good waiting to do a PET scan to see how my chemotherapy healed me.
I have thyroid surgery scheduled in February as doctors suspect that I have follicular thyroid cancer.
Getting the right support
Up to now in my cancer journey, I have never cried thinking about I got cancer. But I have cried out of pain.
The biggest impact was the financial impact. Although the expenses increased with cancer my income turned out to be zero. Our Centrelink claim got rejected. My biggest worry is being unable to support the family.
However, I have faith in myself. I will bounce back and make things better. The social worker in the hospital gave me some help through Can Assist.
I got to know about "Lymphoma Australia" through my previous regular GP. I followed the Lymphoma Australia Facebook page. I also learnt stuff from resources and factsheets on their website.
Whenever I have questions, I call Lymphoma Australia Nurse (1800 953 081). They are super helpful and knowledgeable. They also sent me a beautiful green purse with many sample products in it.
Joining Facebook groups like Lymphoma Down Under and the Hodgkin Lymphoma support group also helped me to go through this journey.
My message to the public is it is important to build up awareness about the symptoms of cancer.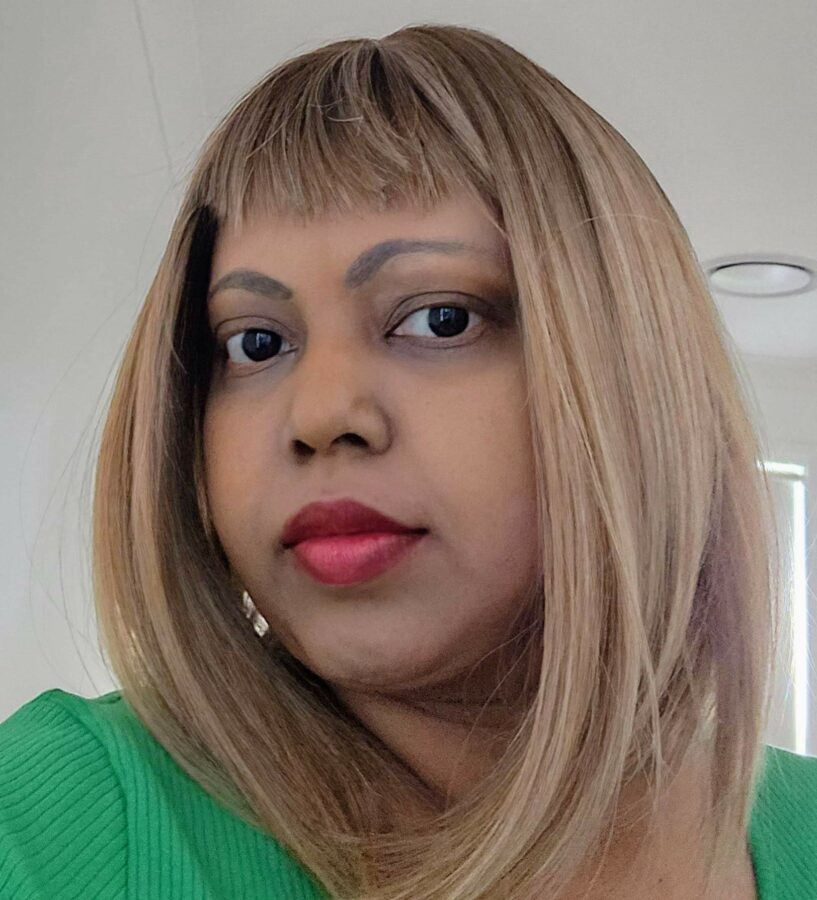 If you have cancer it helps to diagnose it early. Dealing with advanced cancer is not easy; you must deal with multiple cancers and more intense treatments. One must be their own health advocator before diagnosing an illness and even after diagnosing.
My message to relevant authorities, please provide more training to GPs about detecting cancer early. The government would not have to spend so much money if cancer can be detected early. And also if the pathology results are sent to the patients as well it would be really convenient.
Finally, I wish to thank all the kind people who donated to Lymphoma Australia and other charities so that these services can be provided to patients.
~Venuja