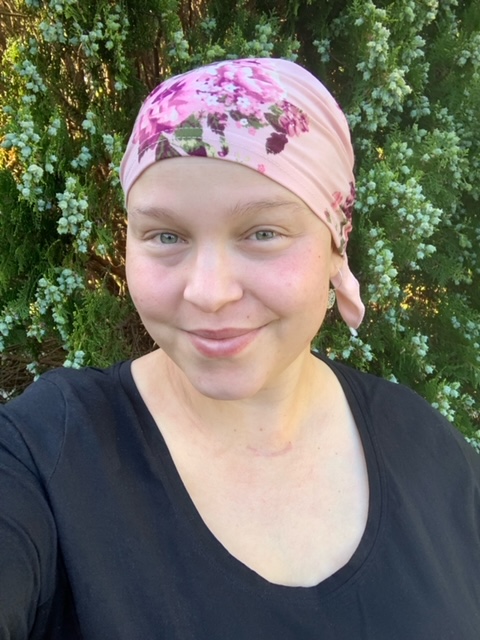 Hiya!
My name is Mina.
I enjoy dancing, work in education and have a beautiful four year old daughter.
On the 9th July 2021, I made an appointment. When I phoned, I was told my regular GP was on leave so I decided to see a different GP. I had seen this GP a few times before for both myself and daughter when my regular wasn't there. Long story short, I'm glad I saw him that day and he is now our regular GP. I told him about my shortness of breath and a few other things that were bothering me. He actually said "how can you have so many things wrong"? He checked my lungs with a stethoscope and even though they sounded clear he sent me for an X-ray and a blood test.
Ten days later we looked at the results together and to our surprise it showed a mass in my chest. He sent me for a CT that day and phoned me the next morning to go in ASAP. I knew from there that my results weren't fantastic and I specifically remember thinking to myself "I've got cancer".
He called me in as soon as I got there and we looked at the results. Definite mass in the chest which was roughly the size of a tennis ball and a handful of other nodes around the neck too. The report said this was highly suggestive of lymphoma. He phoned the hospital as I sat next to him. A referral was made and I needed to wait for them to contact me. I thanked him and walked out. At this point only my mother knew I had the CT scan and then a couple days later I told my two sisters what was going on. I didn't want the rest of my family knowing until I had answers myself.
The hospital contacted me two days later and before I knew it I was booked in for an appointment with respiratory and had a biopsy and PET scan scheduled before I'd even seen them. I remember my first appointment with respiratory. We went through all my notes from my previous GP (not the one who ordered the initial X-ray, the one before who I no longer see). He said that the antibiotics, nasal spray and reflux medication I'd taken over the last couple of months probably didn't work because it was likely lymphoma and not something else. That blew my mind.
The blood test that I had showed slight neutrophilia too, a symptom of Lymphoma. This is when I started to piece together other symptoms I was experiencing which also included itchiness. Mainly in my feet. I was in Broome in May 2021 and during the night I'd wake up with such intense itchiness that felt so deep I couldn't reach it. I remember turning my torch on looking for mosquitos in the middle of the night but I could never see any. I didn't think much more about it.
Another thing that I experienced was feeling uncomfortable when I was laying flat. I found it hard to breath and made strange noises when I tried to sleep on my back. I was told that this was happening because the mass in my chest was pressing up against my trachea.
My first biopsy came back inconclusive (bronchoscopy) so we needed another one. My doctor suggested three different procedures and they were all turned down by the radiologist and ENT surgeons as they were all considered too risky. I eventually ended up having a mediastinoscopy – which was basically an excisional biopsy.
A week later on the 19th August 2021 I got my results. "I assume you've had the results"? the surgeon asked. "Not yet" I replied whilst thinking about the text message I received a few minutes ago about a scheduled haematology appointment.
"I'm sorry to tell you this, you have Hodgkin Lymphoma".
One of my sisters were waiting for me outside and when I walked out with a questionable grin on my face she instantly knew. Over the next couple weeks I told my family, completed a few extra tests (blood tests, pulmonary lung function test and echocardiogram) and had several other appointments all in preparation for treatment. My decided treatment was four cycles of ABVD chemo followed by 30.06 Gy in 18 fractions to my mediastinum (radiation to the chest).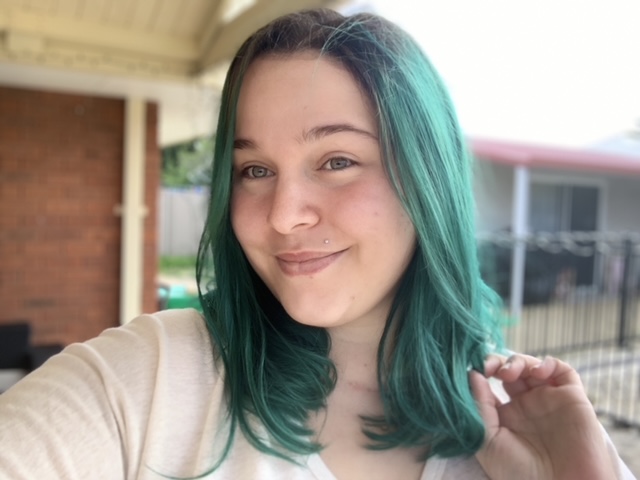 9th September 2021 was my first round of chemo and the week before I decided to dye my hair green. You know, for lymphoma awareness month.
I also decided to document my whole experience through video and photos and started sharing it around social media whilst raising money. I thought it was very fitting considering I was starting treatment for lymphoma during lymphoma awareness month.
(A link to my videos is at the bottom of this page)
Anyway, first round of chemo went off without a hitch. We used a regular cannula as I decided to see how my veins held up before agreeing to a PICC line. In the first two days after, I had developed such intense head pain that I went back to see the haematology team and ended up on pain medication. I also had bad nausea and fatigue which stayed for the following few months. By the end of the fortnight I was feeling okay and mostly prepared to do it all over again.
My hair on the other hand had already started falling out. It was about the 10th day when I started to notice. 2nd round of chemo my veins were not cooperating and difficult to get to. After three failed attempts to get a cannula in I was sent up to have one put in through ultrasound guidance. I was also booked in to get a PICC line the following fortnight.
This chemo was fine and the side effects I got this time were mainly in my stomach. I had really bad cramping – was weird.
My hair was also really falling out now. It was all over the house, all over my clothes, through my bed sheets and even in my food. I shaved it off with my family around me. It was more emotional than I anticipated and although I cried for most of it, it felt great not having to watch my hair fall out. It took some time for me to get used to my bald head. I think my daughter responded to it better than me. Cycle one was now complete.
The next three cycles were much the same in terms of the chemo. The side effects I had so far experienced were mostly under control at this point however, this is when the peripheral neuropathy in my feet started to creep in. By cycle three my feet were in so much pain that I missed a dose of vinblastine and had 75% vinblastine for cycle four (this is one of the chemo drugs and can damage nerves). I was on different pain medication for this and after two weeks we finally got the pain under control.16th December 2021 was my last round of chemo. It felt so strange walking out of the haematology day ward knowing I didn't have to go back in two weeks. It felt good knowing I wasn't going to spend most of my time feeling awful. The first ten days I usually felt awful and spent most of the time in bed or on the couch and the last three days were my "good days" before I went back for more. Chemo really knocked me around.
On the 24th December 2021 I had my radiation planning day where I was measured, lined up and tattooed. I also had my PICC line taken out too. That felt amazing. My post chemo PET scan was an odd one. Two hours after I had it done my haematologist phoned me and told me she was booking me in for a biopsy as there were a few nodes that looked active in my neck. Two days later I had the biopsy.
Thankfully the results showed no evidence of lymphoma and I was declared in remission on the 15th February, 2022.
I began radiation the week after on the 22nd February 2022. Radiation was a walk in the park compared to chemo, although the burning smell was overwhelming and the sound of the machine as it manoeuvred the radiation through my chest was cringeworthy.
During radiation and for a little while after I went back to my dance class once a week. It felt amazing but I could definitely tell that my body had been through trauma and was still healing in terms of breathlessness, fatigue and strength.
After thinking about it for some time as I know it's quite controversial, I decided to ring the bell on my last day of radiation – 18th March 2022. For me, ringing the bell simply meant that I had completed the intended course of treatment for my diagnosis – regardless of whether I relapse or end up with a secondary cancer in the future.
The following months have been interesting to say the least. During May I contracted COVID from my daughter. My symptoms were mostly manageable and after I contacted my team I was sent the PAXLOVID anti viral medication. This helped immensely however I'm still experiencing long COVID. Further more I have gone back to work part time as an Education Assistant which I am enjoying but had to stop my dance class as the it falls on one of my work days. I'm yet to find another class!
Emotions have literally been here, there and everywhere.
During treatment I was "emotionally stable". Well I thought I was at the time. I think because everything happened so fast with so many different appointments I didn't really have much time to process. Also, I felt watching my daughter watch me go through this was harder than having to do it myself.
Anywho, now that I've finished treatment and am in remission my mental health is definitely worse than it was during which I didn't think was possible. Sounds crazy but it makes sense. I've got quite a bit of survivors guilt and I'm pretty sure I'm still in denial with what has just happened. However, with that said I'm slowly learning about and accepting my new "normal".
13th July 2022 was my three month post treatment PET scan and it showed I'm still in remission.
Lymphoma Australia is a wonderful organisation that support people with lymphoma across the country. Their Facebook page was a big help during treatment and I appreciated reading all the different posts. It was a platform to engage in conversations with other people who have experienced or are experiencing very similar things.
Another organisation that was very supportive during treatment was the Youth Cancer Service which was situated at my hospital – Sir Charles Gairdner in Nedlands, WA. This service provides support for people aged 15-25 and because I had only just turned 26 I scraped in by the skin of my teeth. I was even lucky enough to participate in two 'Life Now' programs which focus on rehabilitation for young people affected by cancer. I've met some great people there and I now call them friends.
One other thing I found greatly helpful was watching other peoples experiences with Hodgkin Lymphoma.
As I briefly mentioned before I've documented everything and all my videos are on YouTube to view with the hope I can help someone through their experience. If you want to have a watch follow the link below and it'll take you to them all. Some of them are a little lengthy and there is some occasional swearing. If you choose to watch them I hope they help you in some way.
Cancer sucks and I hope wherever you are in your lymphoma experience know that your feelings are valid and you are allowed to feel. I wish you all the best.
– Mina