Overview of Enteropathy-Associated T-cell Lymphoma (EATL)
Enteropathy-Associated T-cell Lymphoma (EATL) is a very rare type of Peripheral T-cell Non-Hodgkin Lymphoma that happens when T-cell lymphocytes in your bowels become cancerous. 
The word "Enteropathy" means disease of the intestines (or bowels).
Although EATL starts in the T-cell lymphocytes in your small bowel, it can spread to other parts of your body including your bone marrow, lung, liver, chest, skin or rarely also to your central nervous system (CNS) which includes your brain and spinal cord.
EATL is an aggressive lymphoma, which means it grows quickly, and symptoms may start happening over a short period of time. 
About T-cell lymphocytes
T-cell lymphocytes are specialised white blood cells that support our immune system by fighting infection and disease.
Unlike other blood cells, T-cell lymphocytes do not usually live in our blood, but instead are found in our lymphatic system. However, because their job is to fight infection and disease, they can travel to any part of our body including our blood, skin, stomach, organs and brain.
Some collections of T-cell lymphocytes are also found in our gastrointestinal tract which includes our mouth, stomach and bowels (intestines). EATL begins when the T-cell lymphocytes in your bowels become cancerous.
Who gets EATL
There are different types of intestinal lymphomas and EATL although rare overall, is the most common intestinal T-cell lymphoma.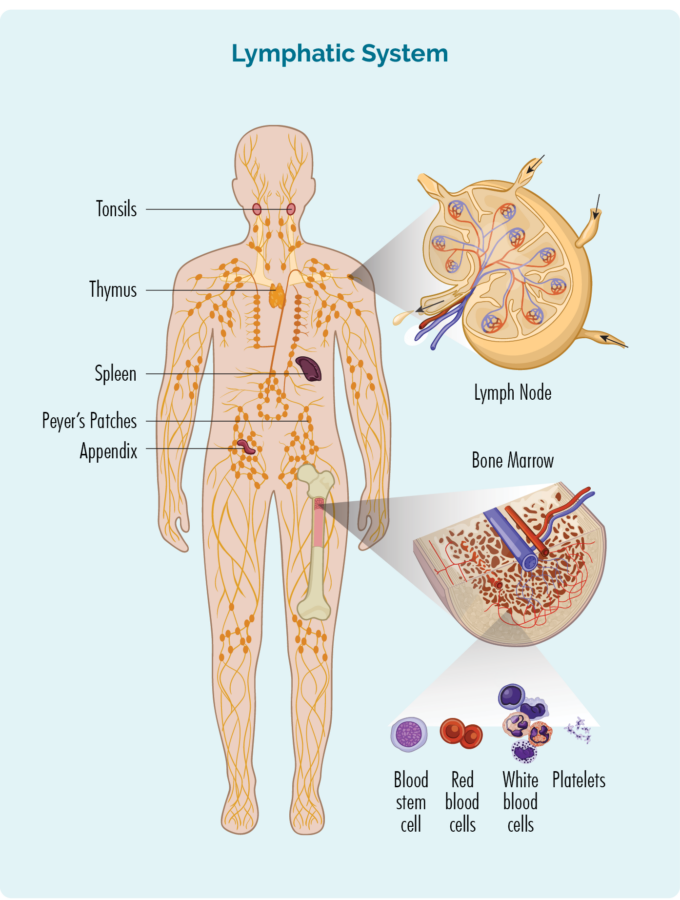 EATL is most common in people who have coeliac disease, a disease of your bowels where you have an intolerance to gluten. Gluten is a protein found in most grains, wheat and oats. People with a genetic mutation called HLA-DQ2 homozygosity are more prone to coeliac disease, therefore this mutation is also a risk factor for developing EATL.
If you have had ulcerative jejunitis as a complication of your coeliac disease, you may be at even higher risk of developing EATL.
People with intestinal T-cell lymphoma's also tend to have a mutation in the JAK-STAT pathway. This pathway is an interaction between proteins inside the cell that provide information on how cells should behave and grow, and when they should be destroyed. The mutation in the JAK-STAT pathway is thought to encourage the growth of the cancerous lymphoma cells.
Most people diagnosed with EATL are over 60 years of age, but it can also affect younger people. It is also more common in males than in females.
Symptoms of Enteropathy-Associated T-cell Lymphoma (EATL)
Some symptoms of lymphoma are common in all people with any type of lymphoma, and some are related to the type and location of lymphoma you have. If you experience any of the below symptoms see your doctor for a check up. 
Symptoms of EATL
abdominal pain or cramps (tummy ache)
diarrhea (runny poo)
unusual bleeding when you go to the toilet
an obstruction in your bowels which can cause pain, swelling, difficulty with passing wind and/or poo, bleeding, nausea and vomiting
loss of appetite and/or weight loss
skin rash with itchy blisters or raised patches.
B-symptoms (see picture).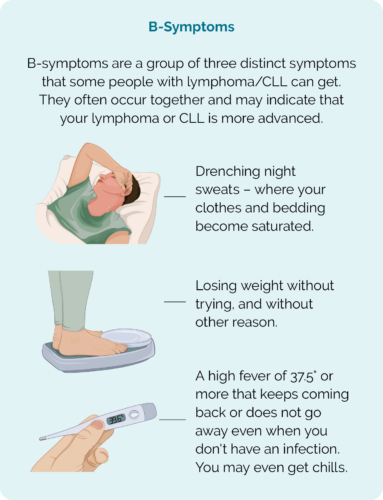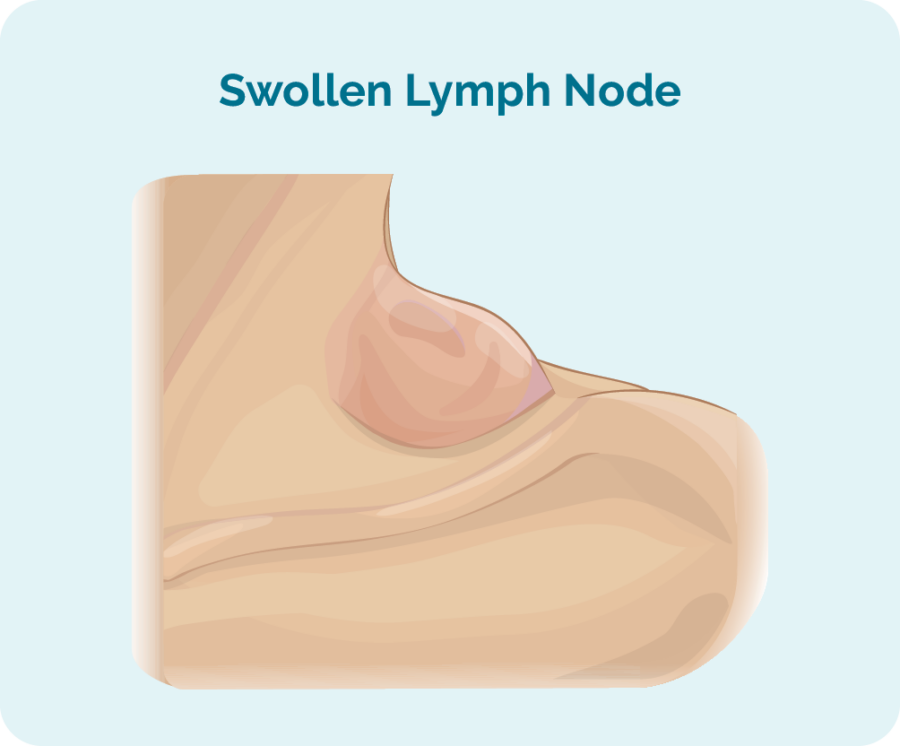 General symptoms of lymphoma
fatigue
swollen lymph nodes (a lump that comes up under your skin, usually in your neck, armpit or groin)
an enlarged spleen or liver
bleeding and bruising more than usual
infections that don't go away or keep coming back.
How is Enteropathy-Associated T-cell Lymphoma diagnosed
Because EATL is an aggressive type of lymphoma, you will likely have symptoms for less than 3 months before getting diagnosed, though for some people it can take longer. It is important to openly discuss any symptoms you have with your doctor so they can plan the right tests for you.
Your doctor will likely start with some blood tests and a stool sample (sample of your poo), to rule out other causes such as infection or allergies. However, if they think you may have cancer such as lymphoma in your bowel, you will need a biopsy of the affected section of your bowel. 
This may need to happen during a surgical procedure where a part of your bowel is removed and sent to pathology to be tested for signs of lymphoma. This is called a bowel resection.
Changes to your blood tests
If you have EATL some changes in your blood tests may include:
high lactate dehydrogenase (LDH) level
low calcium
low albumin
low red blood cells or haemoglobin (anaemia).
There are other reasons that can cause similar changes in your blood tests, so it is important to talk to your doctor about all of your results.
There are many different tests and scans your doctor might recommend for you to help diagnose, or stage your EATL.
Endoscopy
Computed tomography (CT) scan
Magnetic resonance imaging (MRI) scan
Positron Emission Tomography (PET) scan
Tests on your heart, liver and kidneys (to make sure they are strong enough to cope with the chosen treatment)
Biopsy
Before treatment starts you will need to be well enough to tolerate the toxic treatments. This can sometimes make it difficult to start, as most people with EATL are quite unwell when first diagnosed. But your doctor will work with you, and keep a close on you to make sure your body can tolerate the treatment.
First-line treatment
The first time you start treatment it is called first-line treatment.  Chemotherapy is the most common type of treatment you would have, and it is often followed by an autologous stem cell transplant.
Common chemotherapy protocols you may be offered are:
IVE-MTX – a combination of chemotherapy medications called ifosphamide, vincristine, etoposide, methotrexate followed by an autologous stem cell transplant.
CHOP – a combination of 3 chemotherapy medications called cyclophosphamide, doxorubicin and vincristine, as well as a steroid called prednisolone.
CHEOP – the same as medication as CHOP with an extra chemotherapy called etoposide.
Second-line treatment
If you have a refractory lymphoma, or you have relapsed, you will need a second-line treatment.
Treatment for Refractory or Relapsed EATL
There are several different types of treatment your doctor may want to try if you have refractory or relapsed EATL.
Some of the treatments include:
It is recommended that anytime you need to start new treatments you ask your doctor about clinical trials you may be eligible for. Clinical trials are important to find new medicines, or combinations of medicines to improve treatment of EATL in the future. 
They can also offer you a chance to try a new medicine, combination of medicines or other treatments that you would not be able to get outside of the trial. If you are interested in participating in a clinical trial, ask your doctor what clinical trials you are eligible for. 
There are many treatments and new treatment combinations that are currently being tested in clinical trials around the world for patients with both newly diagnosed and relapsed EATL.
Common side-effects of treatment
Side effects of treatment will depend on the type of treatment you are having. Your haematologist or specialist cancer nurse will be able to talk to you about what to expect from your treatment and how to mange your symptoms, however some of the more common side-effects include:
Hair loss, including hair on your head as well as all the hair on your body.
Changes to your bowel motions, including diarrhoea or constipation.
Mouth ulcers, pain or changes to the way things taste.
Fatigue, which is extreme tiredness not improved with rest or sleep.
Low blood counts including low haemoglobin, low platelets and low white cells.
Changes to sensation including numbness, pins & needles, tingling, pain (peripheral neuropathy)
What to expect when treatment finishes
When you finish your treatment your haematologist will still want to see you regularly. You will have regular check-ups including blood tests and scans. How often you have these tests will depend on your individual circumstance and your haematologist will be able to tell you how often they want to see you.
It can be an exciting time or a stressful time when you finish treatment – sometimes both. There is no right or wrong way to feel. But it is important to talk about your feelings and what you need with your loved ones. 
Support is available if you are having a difficult time coping with the end of treatment. Talk to your treating team – your haematologist or specialist cancer nurse as they may be able to refer you for counselling services within the hospital. Your local doctor (general practitioner – GP) can also help with this.
Lymphoma Care Nurses
You can also give one of our Lymphoma Care Nurses or email. Just click on the "Contact Us" button at the bottom of the screen for contact details.
EATL is a rare and aggressive cancer of your white blood cells called T-cell lymphocytes.
EATL usually starts in your small bowel, but can spread to other parts of your body.
Symptoms of EATL can include pain or cramps in your tummy, diarrhoea or difficulty passing wind or stool, bleeding when you go to the toilet, loss of appetite and weight loss as well as B-symptoms.
You will need several different types of tests and scans to diagnose and stage EATL, including a bowel resection.
Treatment will usually include chemotherapy and a possible stem cell transplant.
You may need more than one type of treatment.
You are not alone, talk to your treating team if you need extra support, or give our Lymphoma Care Nurses a call.