Lymphoma is a term used for a group of more that 80 different diseases that start when blood cells called lymphocytes become cancerous.  We have two main types of lymphocytes, these include B-cell lymphocytes and T-cell lymphocytes.
T-cell lymphomas are cancer of the T-cell lymphocytes, and are much rarer than B-cell lymphomas. To understand T-cell lymphomas, you need to first have a good understanding of lymphoma. Please see our What is Lymphoma webpage for an overview of lymphoma.
Understanding T-cell Lymphocytes
T-cell lymphocytes are an important part of our immune system that protect us against infection and disease, and regulate our immune system to prevent autoimmune attacks. Auto immune attacks happen when our immune system is overactive or faulty and begins to fight our own body instead of infection and disease.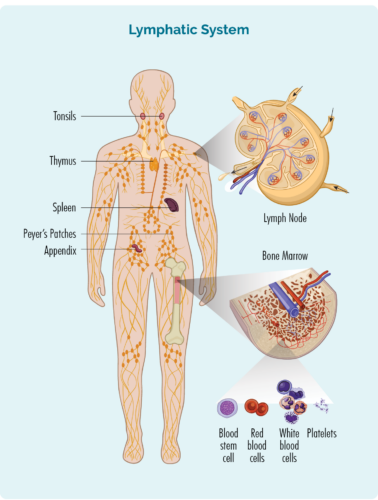 About T-cell Lymphocytes
T-cells are made in our bone marrow, mature in our thymus, but can live in any part of our lymphatic system – including our lymph nodes.
Most T-cells need to be activated to work effectively. They are usually resting in our thymus or other parts of our lymphatic system, and only wake up and fight infection when other immune cells let them know there is an infection or disease to fight. When they wake up, T-cells can travel to any part of our body to fight the infection or disease.
Some T-cells are responsible for "regulating" the immune response. This means that once an infection has been destroyed, the "Regulatory T-cells" tell other immune cells to "stand down" so they don't keep fighting and cause harm to our good cells.
Natural Killer (NK) cells are often called "NK T-cells". They are specialised immune cells that recognise and destroy cancer cells. Unlike other T-cells, NK cells do not need to be activated to fight cancer. They are ready to fight at all times, and actively move around your body on the look-out for cells that have cancerous changes.
After fighting an infection or disease, some T-cells become "Memory T-cells". They remember everything there is to know about the infection and how to fight it. That way, if we ever get the same infection or disease again, our immune system can fight it a lot more quickly and effectively.
Some T-cells help other immune cells, such as B-cell lymphocytes to work effectively. These T-cells are called "Helper T-cells".
What are T-cell lymphomas?
T-cell lymphomas are a type of Non-Hodgkin Lymphoma (NHL) that develop from T-cell lymphocytes. They are rare, and most T-cell lymphomas develop from mature T-cells. These T-cell lymphomas usually affect adults over 60 years of age and are more common in men than in women.
However,  sometimes T-cell lymphoma can develop from immature T-cells. This is called lymphoblastic lymphoma and this type is more common in children and young adults.
Causes of T-cell lymphoma
We don't know what causes T-cell lymphoma. There is some research that suggests certain factors may increase your risk of developing lymphoma, but most people with these risk factors will not develop lymphoma. Some risk factors identified include:
Infection with Human T-lymphotropic virus type 1 (HTLV-1) is linked with development of adult T-cell leukaemia/lymphoma (ATLL).
Past infection with Epstein-Barr virus (EBV) is linked to the development of a range of lymphomas, including angioimmunoblastic T-cell lymphoma (AITL).
Enteropathy-associated T-cell lymphoma (EATL) is linked with coeliac disease.
Symptoms of T-cell lymphomas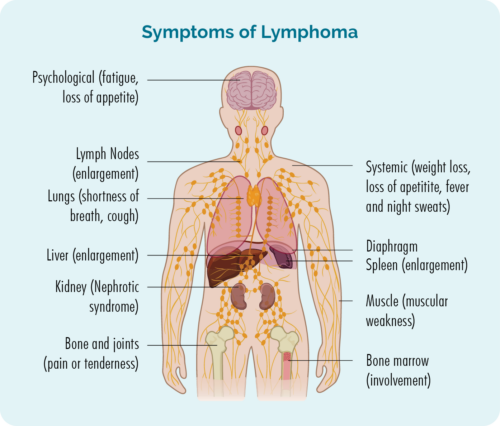 With around 20 different types of T-cell lymphoma that can start in any area of your body, symptoms between people with T-cell lymphoma can differ greatly.
There are some symptoms that are common in many people with lymphoma, and others called B-symptoms that you need to report to your doctor quickly. These symptoms are shown in the pictures below, but for an in-depth look at symptoms click on the link below the pictures.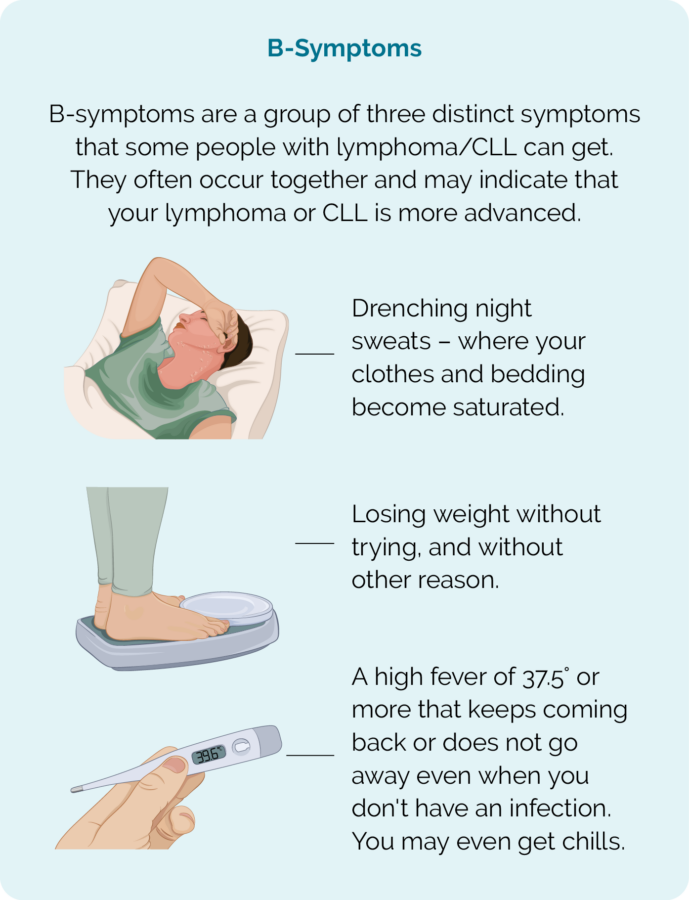 Diagnosis and staging of T-cell lymphomas
T-cell lymphomas can be difficult to diagnose for three main reasons. These include:
they can start in any area of your body
many symptoms are similar to those seen in other illnesses, and
they are very rare so many general practitioners (GP doctors) have never looked after someone with T-cell lymphoma.
The first step to getting a diagnosis is to have a biopsy of the swollen lymph node or other area of your body affected. This may include a skin biopsy if your lymphoma is affecting your skin.
You may need different types of tests to get diagnosed with T-cell lymphoma, work out your subtype, stage and grade. Watch the video below to hear from Consultant Haematologist Dr Dejan Radeski about what tests you may need.
How is T-cell lymphoma treated?
The type of treatment you need for T-cell lymphoma will depend on the subtype of lymphoma, whether it is indolent or aggressive, your symptoms and personal preferences. Below is an overview of some of the types of treatment you may be offered. 
Prognosis of T-cell lymphoma
Prognosis is how well you are expected to respond to treatment for lymphoma and what the likely outcome will be.
Many people respond well to treatments and go into remission however, even if you get a good response early, T-cell lymphomas often relapse and need treatment more than once. 
Some people may not respond to the first-line treatment and will need to try different types of treatment to get the lymphoma under control. Lymphoma that does not respond to treatment is called refractory.
Your individual prognosis is a very unique thing and depends on several factors such as: 
the subtype of T-cell lymphoma you have and its stage
your age and overall health
genetic factors that may affect treatment
how well your body responds to the treatment.
There are other factors that may affect your prognosis too. Ask your doctor about your prognosis and what to expect from treatment.
Aim of treatment
The aim of treatment may include a cure, complete or partial remission. It is important to have clear expectations about your treatment so you can plan what you need. 
T-cell lymphomas can be slow growing (indolent) or fast-growing (aggressive).  Most T-cell lymphomas are aggressive. Click on the dot points below to learn about the different subtypes.
Aggressive T-cell lymphomas
T-cell lymphomas develop when T-cell lymphocytes undergo changes and become cancerous.
T-cell lymphocytes (T-cells) are an important part of your immune system, regulating immune responses, fighting infection and disease, and helping other immune cells work better.
Although T-cells are a type of white blood cell, they do not usually live in your blood like other blood cells.
T-cells are made in your bone marrow and then travel to your thymus where thy continue to grow and develop. They then live in your thymus and lymph nodes but can travel to any part of your body.
There are about 20 different subtypes of T-cell lymphoma and each is very rare.
Symptoms can be general lymphoma symptoms or related to the part of your body where the lymphoma is growing.
B-symptoms are common in some T-cell lymphomas. Let your doctor know if you have these symptoms.
There are different types of treatments for T-cell lymphoma and the treatment you get will depend on your subtype, age and overall well-being, symptoms and your personal preferences.
T-cell lymphomas can respond well to treatment, but often relapse. You may need to have treatment several times.
You are not alone and can contact our Lymphoma Care Nurses by clicking on the Contact Us button at the bottom of the screen.